WHERE WE ARE LOCATED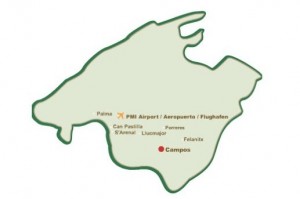 Agroturismo Sant Blai is well sign posted and if you follow the directions below you should not get lost! But should you have difficulties, don't hesitate to call us to help you find your way to us. We are just 20 minutes from the airport.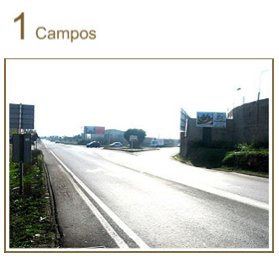 There is a Google map below this description:
From Campos.You will enter Campos from the direction of Llucmajor – completelycross the village in the direction of Santanyi. As you are leaving Campos you will see a petrol station on your left hand side. Here you will cross a roundabout with a large wall to your right. You need to take the immediate turn to the right after the wall in the direction of Colonia de Sant Jordi (if you look carefully you will see two large posters with hammocks advertising Sant Blai on the wall).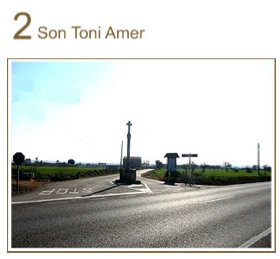 Cami Son Toni Amer.Sant Blai is located in Cami son Toni Amer. The turning to this road is 1.8km from Campos in the direction of Colonia de Sant Jordi. After turning right towards Colonia de Sant Jordi when leaving Campos, drive for just under 2km. You will then see a left turning with a large stone cross in the middle of the road. There is a sign post for "Agroturismo Sant Blai" as well as "Ermita Sant Blai" (the church that our finca is named from), turn left here and drive for another 2.5km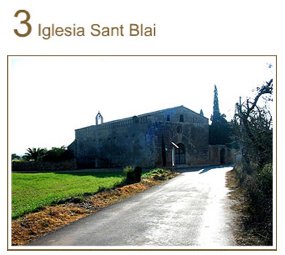 Oratori of Sant Blai.Following the road down you will pass the XIV century Oratori (church) of Sant Blai on your left. Continue straight on towards the cross roads.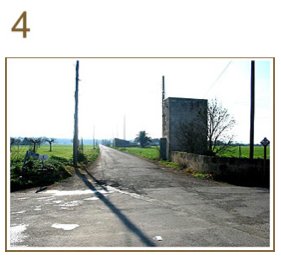 At the Crossroads continue straight on following the road and you will  see another sign for Sant Blai on your right.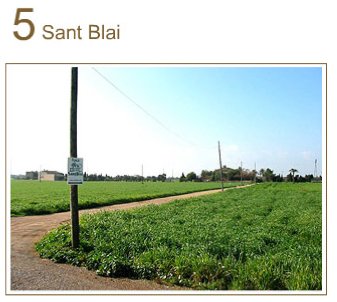 Sant Blai You are almost there! After the crossroads shown above - drive for approximately 500m. You will see a farm building to your right with a country track just after this to the right. There ia a sign on the telegraph pole that says Finca Sant Blai. Turn right here and drive down into the car park on your right at the end of the drive. You can leave your car and follow the aroma of lavender into the gardens behind the two cottages – here you will see signs to Reception. Welcome to Sant Blai!
Finca Sant Blai, Ctra Campos - Colonia de Sant Jordi Km 1.8, 07630, Campos
Ver mapa más grande